What are the top 5 logistics & supply chain trends in 2023?
The only way a business can thrive is with the help of growth. There is no growth without evolution. But evolution only comes with change! Accepting these changes in our work is what many manufacturers struggle with. Today let's take a look at what trends and changes in supply chain and logistics manufacturers should look forward to in 2023.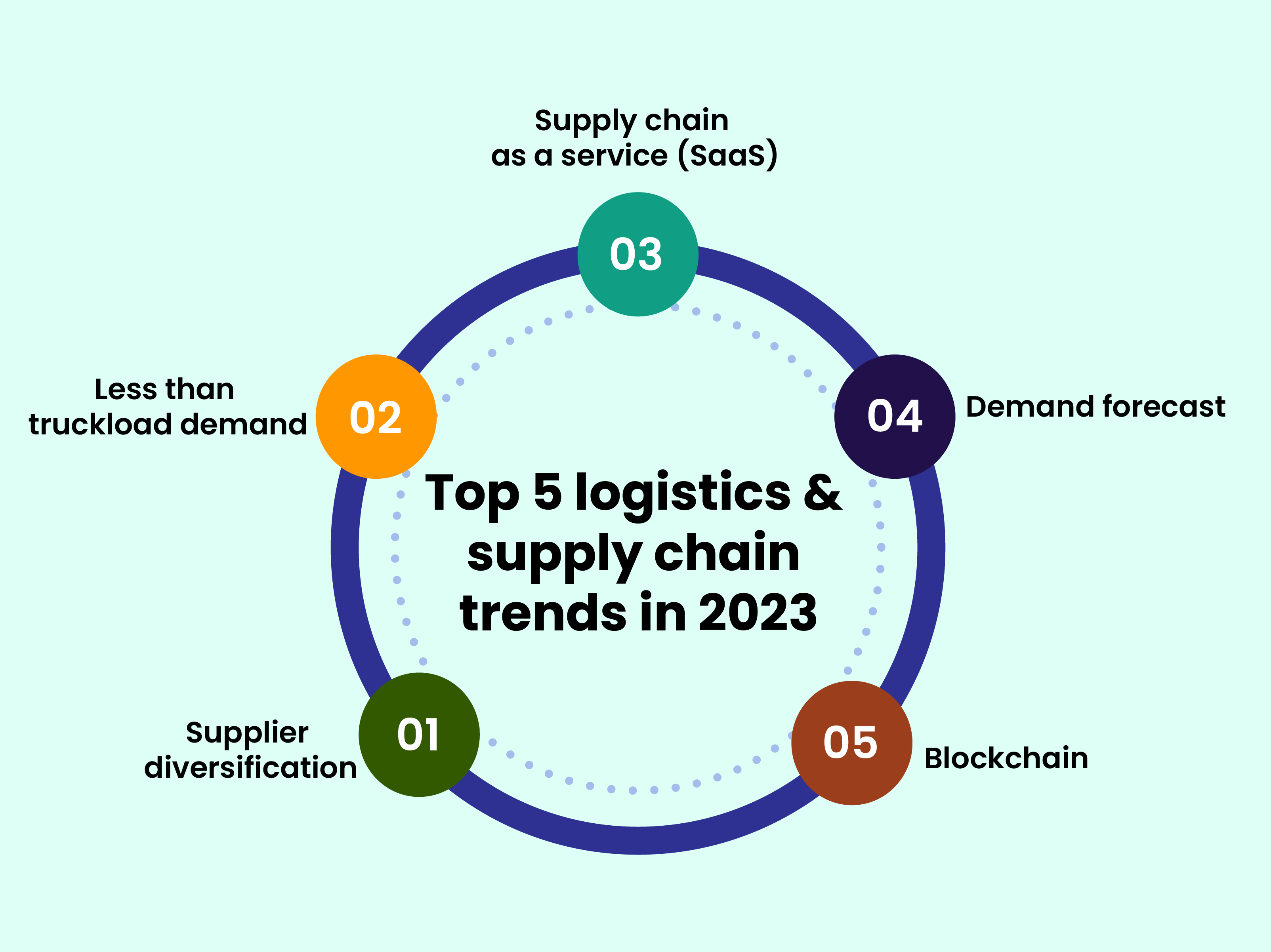 What are the top 5 logistics & supply chain trends in 2023?

1. Supplier diversification

To understand this better, let's take suppliers as an example. Even if you are the perfect supplier or vendor, there might come a day when the supplier may fall short. Instead of solely depending on one person to provide manufacturing essentials, you can opt for supplier diversification. In this, a manufacturer has more than just one vendor who supplies them with the essentials to create a finished good. By having a backup or an alternate you can easily avoid supply chain failure.
2. Less than truckload demand

What generally happens in manufacturing is that the deliveries are only made once the trucks are full. For that reason, many small shipments will be kept on hold. To avoid delays on these products, companies have now begun than truckload strategy. This allows multiple company products (small shipments) to be placed in the truck allowing it to get full faster without any loss.
3. Supply chain as a service (SCaaS)

The value chain is getting more and more sophisticated each day. Thereby completely depending on having all the supply chain services in-house is impossible. To avoid unexpected supply chain failure, what the industry today must do is outsource these services. To know more about outsourcing supply chain services, visit Radiant Electronics & Appliances today.
4. Demand forecast

There are numerous tools for supply chain analysis, value chain analysis, logistics analysis, and more. That being said, what manufacturers are lacking is not the ability to utilise the data they retrieve from these analyses. Besides fixing your problems you can also predict future challenges with the help of the data through analytics. Read our blog on supply chain analytics to know more!
5. Blockchain

Data security and safety, especially in the manufacturing industry, is substantial. Ergo, blockchain is your answer. By creating a blockchain of the network, it is able to create a database that restricts data manipulation. Besides this, it also offers transparency and trust at every stage of manufacturing from raw material acquisition to delivering the final product.
Trends and challenges are what keep the industry thriving. Even if you don't follow all the above-mentioned manufacturing industry trends, what matters is knowing them. Based on this knowledge you can pick and choose what increases your manufacturing efficiency as well as fits it without compromising on quality. To get such manufacturing services with advanced technology integration, visit our Radiant Appliances & Electronics website. You can also give us a call at +91-8414 667701!